Busy times here at Warmowski Photography! We have two weekends with two weddings, so we're busy processing thousands of images. Wanted to write a quick post about a cool DJ at last weekend's wedding in Chicago.
Pamela & David chose DJ Leslie Stiles from Toast and Jam for their wedding. They had an intimate crowd for their reception at Maggiano's in Schaumburg, and Leslie provided the soundtrack without taking over the room. It was great to see Pamela dancing to the music, and the couple talked to the DJ a couple times during the night — so Leslie was something more that just the person providing music.
Tiffany likes to make fun of me because I pretty much only listen to NPR (it keeps the journalism side of this "retired" newspaper photojournalist happy). But often while working on photos I'll listen in to XFM out of London. I got hooked on the station while studying for a trip to see some friends in England. And many a time during the wedding night I heard something that I recognized from the XFM playlist.
Leslie described her group as "anti-wedding, wedding DJs" — so if you're looking for something different in the Chicago area, check 'em out.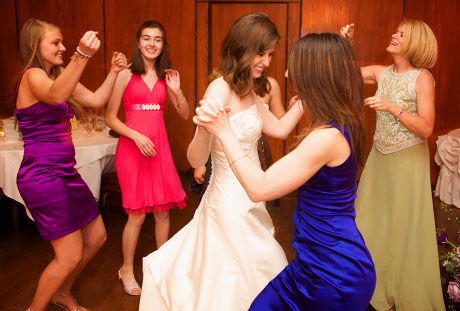 Wedding details: Ceremony at St. Mary's Church in Buffalo Grove; portraits taken in nearby Lake County Forest Preserve areas; reception and catering by Maggiano's in Schaumburg.
Posted by Steve of Warmowski Photography — the husband-wife team of photojournalists offering wedding coverage in the Chicago area.