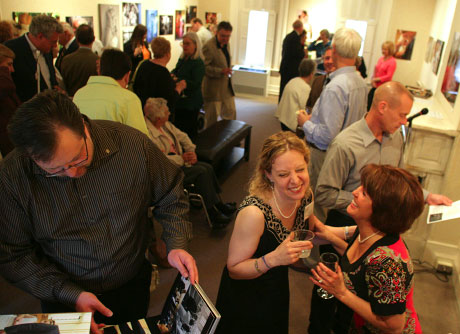 Thanks to all who came to our opening reception Saturday night at the Art Association of Jacksonville's Strawn Art Gallery. We had a surprisingly big crowd for Easter weekend.
Thanks to all the Art Association volunteers who made the evening a success; and thanks to Kelly Gross for helping us get our work up beautifully. Thanks to all our brides & grooms who came out. Special thanks to Cynthia & Thomas Brannan (married New Year's Day 2010) who favored us with a wonderful bottle of champagne; Helen & Ernie Downey (parents of 2006 bride Sarah Downey) who presented us with a bottle of personalized wine; and Tim Chipman (brother of Andrew Chipman whose rehearsal we photographed at the Bellerive Country Club in St. Louis) gave Tiffany a bouquet of tulips.
Our work will be up through the 25th, gallery hours are 4-6 pm Tuesday-Saturday and 1-3 pm Sunday. We're excited to be the backdrop for the Beaux Arts Ball party, as well as the official photographers for the evening.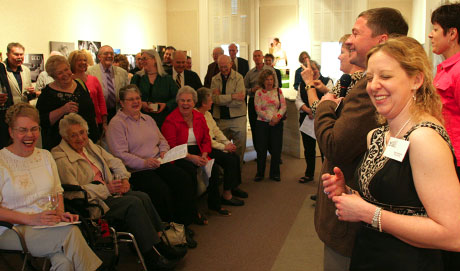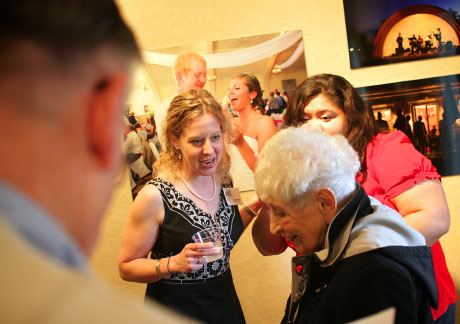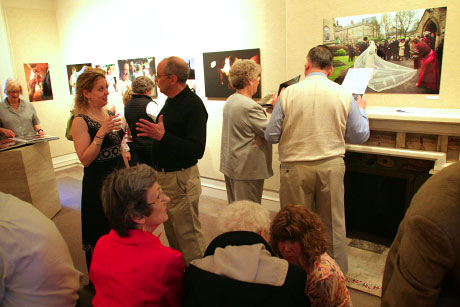 After the opening reception we moved on and up to our studio on the second floor of The Transfer Company Shops (across from Lonzeratti's in Jacksonville). A couple more hours of fun and conversation, and some studio shots for everyone's Facebook profiles.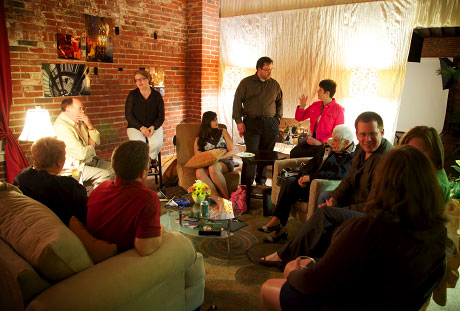 Thanks to Rob Leistra, photographer extraordinaire at the Jacksonville Journal-Courier, for making photos of us as we greeted people at the opening. We photographed his wedding to Jenny Rose last year — ceremony at St. Patrick Church in Lemont, Illinois; reception at Ruffled Feathers Golf Club, Lemont. We're always flattered when a fellow photographer chooses us to cover their wedding, and we appreciate him photographing our special event.