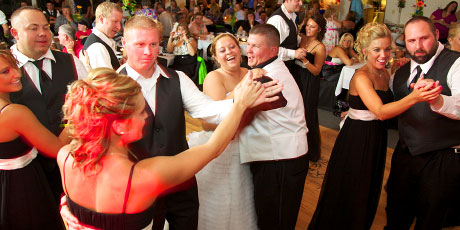 Soon after we photographed Kristy VanMeter & Ty Gebhardt's wedding she sent us this note:
I wanted to let you know how much I appreciate everything you did. From the pictures that I know will be amazing, the pinning of my dress and just being there for anything else I may have needed. The day and night seemed to go off without a hitch. I was absolutely amazed with how my day was the best day of my life and I married my best friend. That night will be one of the most memorable nights of our life forever. For someone to please Ty says a lot, and you guys absolutely did that. . .
I had more fun that night than I have my whole life. I fell in love with Ty all over again and I think he did the same. Our relationship has the strongest bond ever right now and we both realized with our special day that we had the best thing that has ever happened to us. Ty loved you guys as did I (but I think that was obvious). We love how helpful you are and you have a sense of humor that puts the two of you over the top!!! We can't wait to start our family and you can bet we will be calling you. We hope that the two of you had a good time and we will recommend you to everyone we know. I hope you stay in touch, as we enjoy talking with the two of you.
Wow! Thanks Kristy! After a couple e-mails and her seeing her photos, she emphasized the point, writing "the photography is the best choice we made."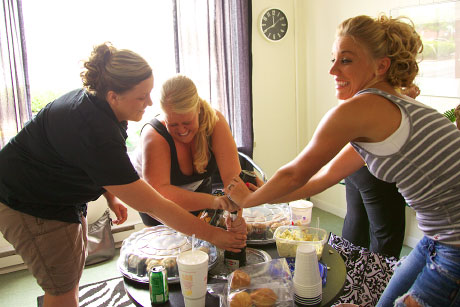 Kristy & Ty's wedding day was a long one for us — exactly the kind of coverage we like to offer to our brides. Kristy chose our Package A, which includes a full day of photography, high-resolution images and a wonderful 40-plus page coffee table book. The day started out with Tiffany covering the action at the On The Clip Side salon in Jacksonville. We followed them to First Christian Church in South Jacksonville for more getting ready images as well as portraits before the ceremony.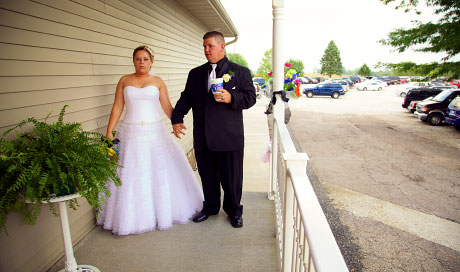 A lot of work went into decorating the reception. The centerpieces were great and the chair covers and different colored bows added so much to the room (rented from the Beardstown Class of 2011). And as the sun went down and the room got darker, the many votive candles made for a very romantic feel.
Despite a calf injury Kristy sustained earlier in the week, she was able to dance and enjoy the reception. One thing that helped was her choice of footwear. Even before her injury, Kristy had decided on gym shoes. Because of the fullness of her dress, nobody could even tell – and she was comfortable all day!