Are you running to stay fit for your wedding, or training for a 5k or another run?
You should take part in the Bridesmaid/Groomsmen Run and 5K Race Saturday June 14th at Duncan Park in Jacksonville. You can do a one-mile run wearing wedding/prom/formal attire, or a full 5K race. Proceeds to benefit Relay For Life, Tri County Illinois.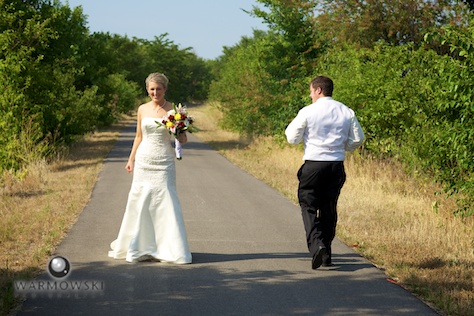 The event reminds us Amanda & Luke's wedding. They met while running on the recreational path at Centennial Park in Springfield, Illinois and we went out and photographed them on the trail before their reception at the Firefighters-Postal Club on Lake Springfield. Just one way our wedding photography can tell the story of your wedding day.
Posted by Steve. Springfield Illinois area wedding photography by Warmowski Photography, husband-wife photojournalist team want to tell the story of your wedding day in pictures. Follow us on Facebook. Studio located at 301 E Court St. Suite B, Jacksonville, IL 62650, open by appointment only.