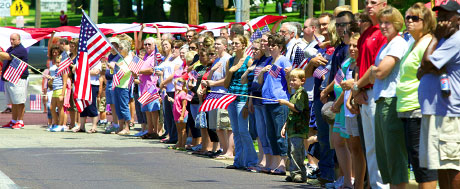 Last month I offered to photograph the honor guard, visitation and funeral of Staff Sgt. Matthew Weikert, of Jacksonville, who was killed in action while serving in Afghanistan. The community made an incredible show of solidarity for the fallen soldier, with people lining the route of the funeral procession. People stood along the curb on both sides of Morton Avenue from the funeral home at Lincoln Avenue for a mile until Route 104. More people with flags, signs of support or just standing along road were interspersed along the rest of the route to Libery Cemetery west of town. Soldiers serving as honor guards said they've never seen a show of support to that extent in all the funerals they've attended.
Tiffany's cousin, Ian Stewart, was killed in 2004 while serving in the Marines in Iraq. I made photos of the wake and funeral at the request of Tiffany's grandmother, and extended the same offer to the Weikert family. Hopefully the images I made for the Weikerts will help them remember the gratitude the community extended for their sacrifice.
Posted by Steve/Warmowski Photography.