The wedding day can, at times, be stressful. That is especially true before the ceremony when everyone is getting ready.
The VIP room at Hamilon's 10 N. East in Jacksonville was a bit messy – and there was a wee flower girl running around somewhere – but Jenna was calm in her "Mrs. Grummel" sweatshirt with her veil in her hair.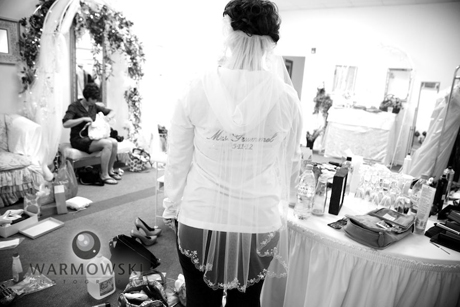 Posted by Tiffany. Warmowski Photography captures the quieter moments of your day you might not even remember until you see the photo. Husband-wife photojournalist team available to tell the story of your wedding day. Follow us on Facebook. Wedding photography for Springfield, Quincy and all of Central Illinois. Member of Springfield Local Favorites, a group of the top wedding vendors in Central Illinois (on Facebook). Studio located at 301 E Court St. Suite B, Jacksonville, IL 62650 in the Hamilton's 110 North East building.