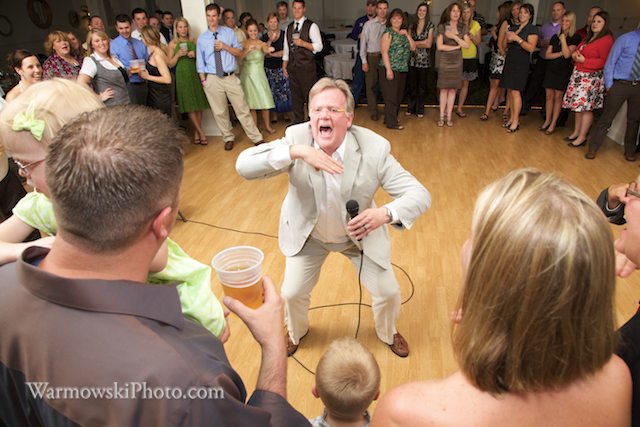 He's a music man! A Wilkinson family tradition is to gather all the family, friends and guests around the dance floor and create a band — à la Professor Harold Hill in The Music Man — to serenade Julie and Phil, the new bride and groom.
The crowd was split up into piccolos, pianos, harps, drums and the like and performed under the direction of Phil's Uncle Mike. He ended the performance with a swan dive off a chair — good thing Phil is a chiropractor, for he probably needed an adjustment in the morning.
Photo details: We like setting up lights around the dance floor to add more depth to the scene. We always try to use available light, but sometimes when it's lacking we add our own. Just another way we at Warmowski Photography like to add a little extra to our wedding photography.
Event details: Hamilton's 110 North East for catering and reception, State Street Bridal for wedding dress, flowers by Ashley's Petals & Angels, D.J. Joe Kindred (Jacksonville, Illinois).