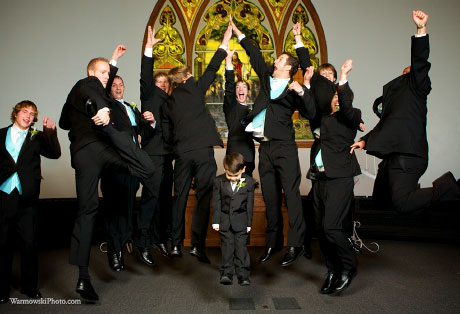 Ushers, sometimes they can be a little sensitive.
So you and your fiancé go through your list of family and friends and choose who will stand up with you at your wedding. Then, you ask two or three more buddies to be a part of your day and serve as ushers.
But somehow, the ushers always seem to get a bit jealous when they don't get to be in all the pictures. "Ushers, can you please get in the group." And they start to grumble.
Tiffany and I picked up on a fun comment at Megan (Knoche) and Adam Wardlow's wedding in Quincy this January. We now refer to ushers as "special teams." The game is at a critical juncture — who do you call in to get the hard, dirty job done? That's right, special teams.
The guys love it. I guess it makes them feel special.
Event details: Location/Quincy, Illinois, service at Madison Park Christian Church, The Ambiance for reception hall, Blumin' Express Florist for flowers, Designer's Edge Day Spa Salon for hair and makeup, Hy-Vee for cake, I DO Bridal Shoppe for tuxes, JJ's Kitchen Catering for food, Elite Bridal for dress (St. Peters, Missouri).
Our blog is new, and we're trying to come up with our best pre-blog ideas to post here. Text by Steve / Warmowski Photography.