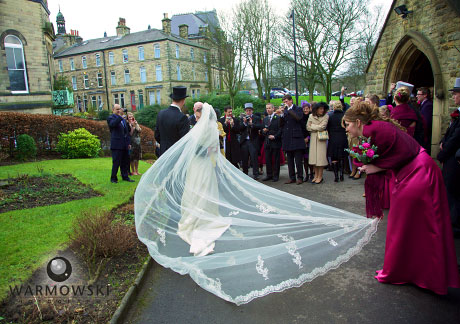 I recently came home from England, after taking a trip to explore my family history with my mother, aunt and grandmother. We started in London and traveled south to Horsham, then west to Thatcham, Tilehurst (Reading) & environs to see places my ancestors roamed.
On the trip, I conducted a bit of business. Steve and I photographed the wedding of Carolyn & Daniel Vize in England January 2008. We met them at the wedding of our friends Sada & Jason Reed — we hit it off, and they quickly followed suit when we said we'd love to photograph their wedding. Following the wedding, we sent them their photos, but their computer crashed and they lost their images. We pulled their stuff out of our archive and copied everything onto a hard drive for me to deliver. It was a great excuse to reconnect with Carolyn's mother in London, and Daniel's parents in Buxton.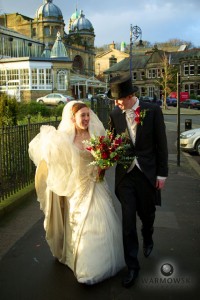 What else does a wedding photographer do while on vacation? Why, take photos of a wedding of course!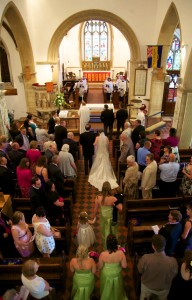 While in Thatcham, I (with Grandma, Mom and Aunt Dawn) went to the main church in town to find out when it was built and if perhaps our ancestors had worshipped or were buried there. It was a Saturday and when we arrived, a wedding was about to begin  – once the bride finally got there. We quickly learned that the bride was delayed because the car she was riding in broke down on the way to the church! She arrived in a "dirty car," in the words of the vicar, but she arrived.
We were talking to church's wedding coordinator while waiting for the ceremony to begin and she suggested I go up to the balcony and watch from up there when the bride arrived. I went up there with my camera and photographed the bride, her father and attendants walking down the aisle. I thought this was amusing because that is the exact place I go when Steve and I photograph weddings.
I have recently contacted the church in order to connect with the bride and groom so that I can e-mail them some photos. I didn't meet the bride and groom, and they didn't even know I was there or that I was taking photos. I hope to connect with them through the church and I wish them a long and happy marriage!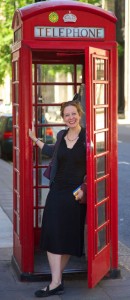 Posted by Tiffany. Warmowski Photography covers weddings in Illinois, but also offers destination wedding packages. Getting married in England? Why not bring your own photographer to cover the whole trip!