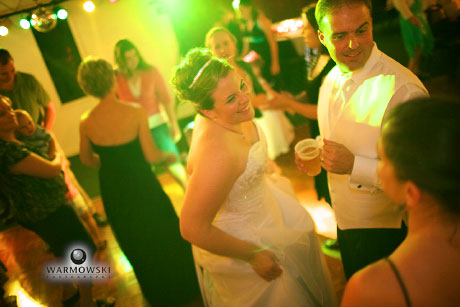 Catching up with getting some of our information on our blog, wanted to get details of Jessica (Drebes) & Justin Jones on their wedding last year in Quincy. Jessica recently wrote an endorsement for us while we were working with someone who contacted us:
Steve and Tiffany were the only photographers we met when planning our wedding. We instantly knew they would fit in with our guests, and be fun to have around during our wedding day. We got so much more than we expected, and feel like we got the perfect mix of the traditional pictures that everyone else has, but even better – they were able to tell the story of our day perfectly so we would remember all the big and little moments from the day.
If you are ever asked for a referral, feel free to have brides give me a call.  I would love to help you out in any way I can!
One of the jokes told during the speeches was Jessica is very organized, so much that she had a 12-page timeline for the weekend with a corresponding spreadsheet featuring a jobs checklist and contact sheet. Everything did progress smoothly.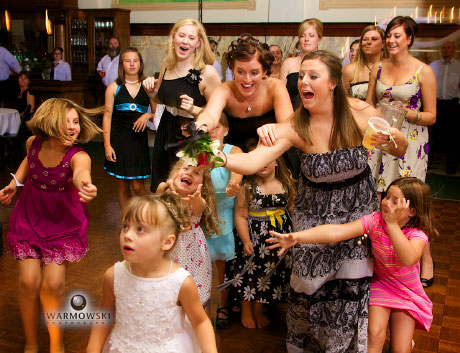 This shot from the bouquet toss was featured in our gallery show this past spring at the Art Association of Jacksonville's Strawn Art Gallery. Hilarious one-handed catch, still keeping a pitcher of beer and most of the beer in her cup.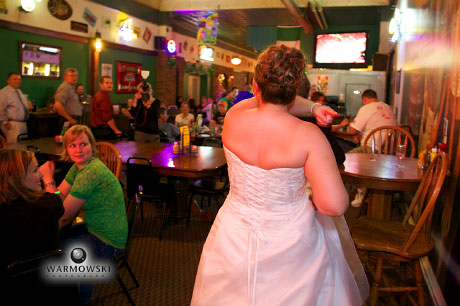 After the bouquet toss Jessica didn't just settle for the D.J. calling all the men onto the dance floor for the garter toss. She wandered into O'Griff's Grill and Brewhouse next door to get any of her guests who went over there to party.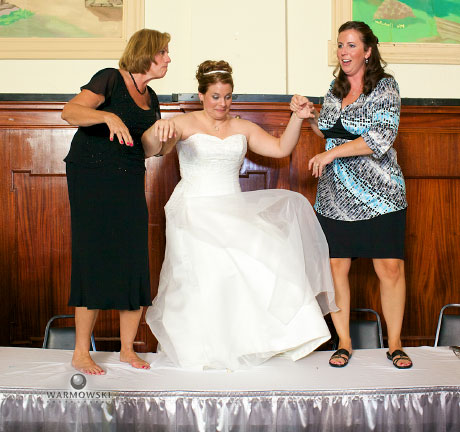 Jessica has warned us that one of her relatives always dances on a table at family events. Here she is reluctantly getting atop the table, praying that it can hold three people!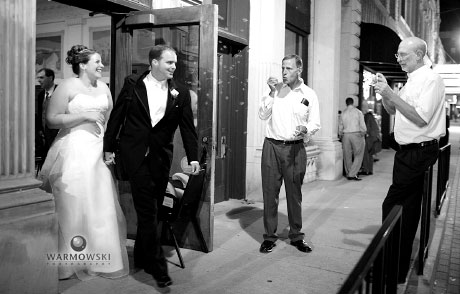 Last observation is Jessica was quite happy that we stayed at her wedding late into the night. We were able to catch her on the dance floor celebrating her birthday, and people blowing bubbles at them as they left the reception hall at the end of the night. Jessica & Justin selected our full-day package, which also included a high-resolution disc with all the images from their wedding.
Event details (all in Quincy): Wedding ceremony at Salem Evangelical United Church of Christ, Quincy; reception at Winter's West Wing; rings from Stafford Jewlers; dress from Bridal & Formal Inc.; hair at Imagine Salon and Salon 420; cake from Underbrink's Bakery; flowers from Wellman Florist; videography by Creative Video Services of St. Louis, Mo.; engagement photos at Villa Kathrine; wedding photography (of course) by Warmowski Photography.
Notes from Jessica: We had good experiences with both Stafford Jewelers and Bridal and Formal Inc.. Kim Winter was awesome to work with on the reception and rehearsal details. She took care of everything for us – including food, music, some decorations, alcohol, etc. We also loved our cake.  I am pretty sure there isn't much we didn't like about our wedding day.  The florist was perfect – she helped me whittle down my "vision" and I was floored when I saw how pretty our simple rose bouquets were.  It was also a good idea to get a video – we couldn't remember much of the words that were said during the ceremony, and the video helped.
Posted by Steve. Follow us on Facebook. See our ad in the Quincy Herald-Whig's Bridal Guide, also on their website at the Bride's Guide.