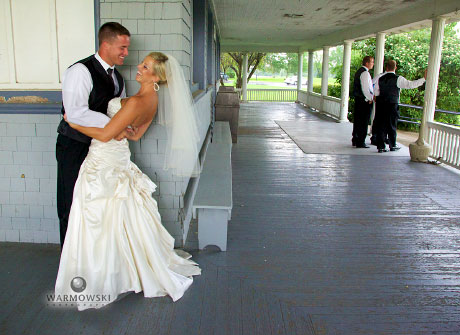 Nicole (Peak) & Chris Dorsey planned on hitting the Irish Toad before their reception, but a little flexibility and a lot of rain let them have fun at Nichols Park instead.
Nicole wanted to have just the essential portraits taken before & after the ceremony at Our Saviour Catholic Church, and wanted to have fun portraits taken at the park. We arrived with looming storm clouds. After a couple photos, it started drizzling and Nicole made a beeline for shelter. The the downpour commenced! The couple and their wedding party spent the next half hour on the pavilion porch, posing for portraits, hanging out with friends, and having a great time. They never made it to The Toad, but with a little flexibility they still enjoyed the day.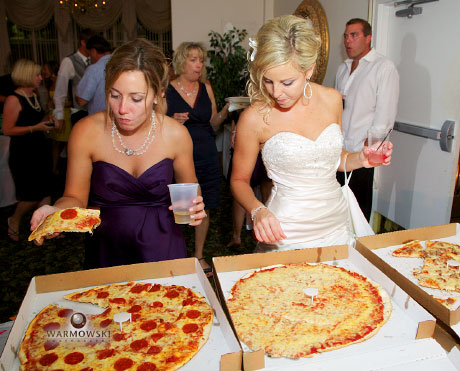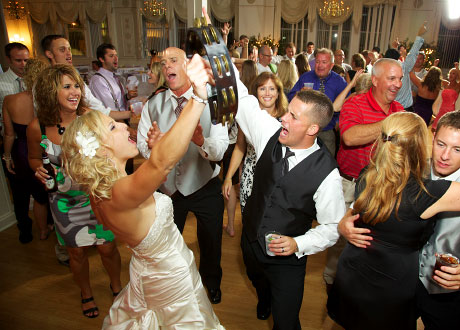 Event details: Ceremony at Our Saviour's Catholic Church in Jacksonville; reception at Hamilton's 110 North East; entertainment by Vote For Pedro of St. Louis; limousine by 1 UP'n Promotions of Springfield; programs, etc., by Margaret Lin designs; wedding & bridesmaid dresses by Bridal Couture, Edwardsville; hair by Inner Harmony, Jacksonville; flowers by Tom Anderson, Auburn, 217.414.7371; cake by All Occasion Cakes, 217.245.5237; rehearsal dinner at Lonzerotti's Italian Restaurant.
Posted by Steve, Warmowski Photography, when brides from Edwardsville want awesome wedding images by photojournalists. Follow us on Facebook.