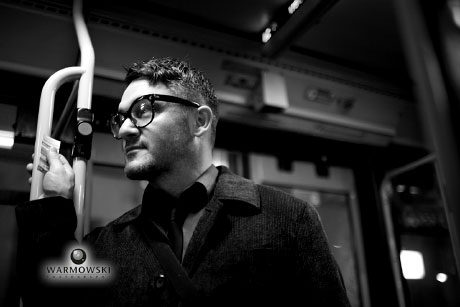 Our very talented friends, Jerry Lee Ingram & Andrea Collesano, are having a gallery show opening at the Strawn Art Gallery in Jacksonville Saturday 2 October from 6-8pm. There's free wine, hors d'oeuvres and absolutely wonderful art.
A Jacksonville native currently living in Florence, Italy, fashion photographer Jerry Lee Ingram has teamed up with artist Andrea Collesano, creating their US debut exhibition together. Tiffany & I helped hang their show Thursday at the Strawn. It's absolutely incredible.
Press release details: Men, Beasts, Shackles, and Myth, a singular exhibit of graphic photography and lyrical drawings, premieres at the Strawn Gallery, Jacksonville, Illinois, October 2, 2010.
A Jacksonville native currently living in Florence, Italy, photographer Jerry Lee Ingram teamed up with up-and-coming artist Andrea Collesano, creating their US debut exhibition together.
A departure from Ingram's usual fashion-oriented photography, we see a personal exploration into a melancholic supernatural fantasy world. In existing, yet surreal settings of natural environments, Ingram's grouping of black and white photos portrays mythological animal-man creatures.
Sometimes real, sometimes imaginary, Collesano's drawings on antiqued paper feature animals, nocturnal flying subjects, birds, insects, snakes and fish. Often including metamorphic creatures such as centaurs and mermen, his creatures are presented often as companions in unexpected locations: a desert, land, seascapes, exploring immense terrains of wonder.
Metamorphic mythic collages combine Ingram and Collesano's drawings and photos into a similar theme, featuring nature's creatures.
Working with well-known fashion houses such as Max Mara, Salvatore Ferragamo, Trussardi and others, Jerry Lee Ingram works as a fashion photographer, and teaches Photography and Fashion at the Florence University of the Arts. A MacMurray College graduate, Ingram studied art and at Kent State University and Lorenzo dei Medici Art institute, both in Florence. Ingram has earned many wards in photography, exhibits frequently and in 2009, was awarded the prestigious nationally televised, Italian creativity honor: Dietro La Bellezza, (Behind Beauty) along with other International celebrities.
Andrea Collesano, a native of the Pisa, current resides in Forte Dei Marmi. A graduate of the Accademia di Belle Arti di Firenze, Andrea's work has been displayed in many one man and collective shows throughout Italy. His work is coveted by European and Italian collectors, and is prominently displayed in the exclusive Castiglion Del Bosco resort interiors near Siena.
Posted by Steve. One day Jerry Lee and
Warmowski Photography
will team up and offer Tuscan wedding packages, combining the best of Florence, Italy and the surrounding hillsides in Tuscany.