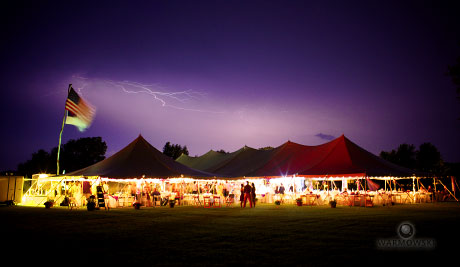 Steve has once again placed in the Wedding Photojournalist Association's contest with a photo from Hannah Cunningham and Joe Reed's wedding summer 2010 in Carrollton, Greene County, Illinois (Image won 9th place in Great Natural Light).
Towards the end of the night he wandered off with a tripod to get an overall image of the tent the Cunninghams had put up on their farm outside of town. He captured the image by taking several long exposures of the scene. This one was eight seconds — long enough to capture the light from the tent and for a flash of lightning to illuminate the sky. Luckily the bolt was far off in the distance, so neither the guests nor my husband (standing in the middle of an open field next to a metal tripod) were at risk!
A little bit about the WPJA — the organization is a resource for brides and grooms around the world searching for the best photojournalists to capture their day. Not photojournalistic-style, as so many other wedding photographers say they can offer,  but experienced photojournalists using their talents to tell a couple's wedding story. From the WPJA web site: We offer a new perspective on wedding photography – quietly capturing the real moments as they happen for the bride and groom. It is our goal to use photography to tell the story of your wedding day, not dictate it for you.
To be a member of the Wedding Photojournalist Association, a photographer has to submit a portfolio, not just pay their way into the organization. Our web site is periodically reviewed, to make sure the work are meeting the group's high professional standards. Less than 5% of wedding photographer qualify for membership in the organization. The group also offers tips and ideas for planning via their on-line publication, Wedpix Magazine. See Steve's profile on WPJA.com.
Before his career as a wedding photographer and business owner Steve worked at newspapers in Jacksonville, Decatur, Freeport and LaSalle-Peru, Illinois. He also interned at newspapers in Muskegon and Saginaw, Michigan, before graduating from the University of Illinois-Urbana/Champaign (and working at the Daily Illini).
Steve has also won previously in the contest . . .
Posted by Tiffany. Warmowski Photography, husband-wife photojournalist team ready to make the best possible pictures at your wedding in Chicago, St. Louis, Central Illinois and beyond. Studio located at 611 E. State St. Jacksonville, IL 62650.