I woke up this morning after a night of rain and decided to check out what was going on with the Town Brook (I'm helping a group trying to create a linear park through Jacksonville, find out more at townbrook.com).
Turns out all the roads going east from Jacksonville are closed by flood waters! Old Jacksonville Road/Old State Road, I-72 eastbound and Morton Avenue are all blocked. Hopefully anyone with a wedding today that has to travel between Jacksonville and Springfield can schedule extra time to thread through any open country roads.
(Lori from Ashley's Petals & Angels reported on her Facebook page that she had to thread her way through county roads to go to Springfield. A wedding that was planned for MacMurray College's Annie Merner Chapel with reception at the Jacksonville Country Club had to be relocated to Springfield. Oh my! She says she had to travel through Arenzville to Virginia and then on to Springfield.)
This reminded me about a wedding we did in 2008 in Blandinsville, Illinois. Liz & Mike had their ceremony at the Blandinsville (Ill.) First Christian Church and then had to make it over the Mississippi Rover to Burlington, Iowa and their reception at the Catfish Bend Inn & Spa Event Center. The road headed towards Iowa was covered with floodwaters, and traffic was down to one lane and controlled by a traffic signal. They allowed extra time to get to their reception.
But the fun part (and a signature of our style) is while Tiffany & I were stuck in traffic behind them, we stopped and got our our camera and a light stand. We lifted the camera 13 feet up into the air to get an overall view, and tripped the shutter with a remote switch.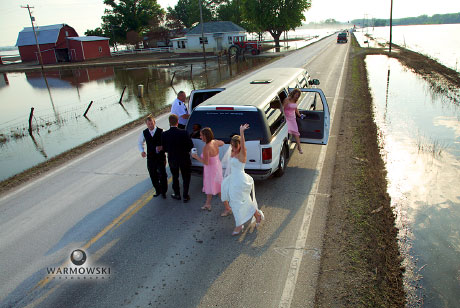 As we were making the photos, Liz, Mike and the whole wedding party got out of the limo to get in the photos.

Just an example of how we work to capture the story of every wedding, and help you remember your day.
Posted by Steve. Warmowski Photography, husband-wife team of photojournalists focusing on wedding photography. Chicago natives, based in Springfield/Jacksonville, will travel anywhere to tell your wedding story. Find us on Facebook.