For Jessica & Kenny's wedding, Jessica wanted to add some pizzaz to the dance floor.
We have seen vinyl signs meant for dance floors, but we had not yet seen a transfer like this. Hamilton's 110 North East let Jessica go ahead and give it a try. She said it was harder to get off than the vinyl sheets, but it did come off fairly easily – albeit in pieces.
The best part was that is took the dance traffic very well. Jessica said she bought it off the website etsy.com.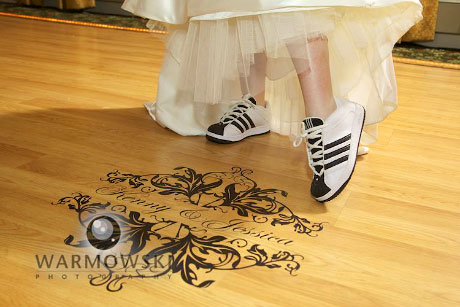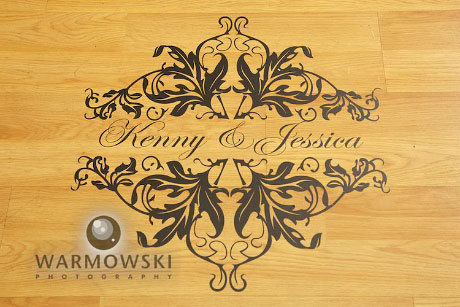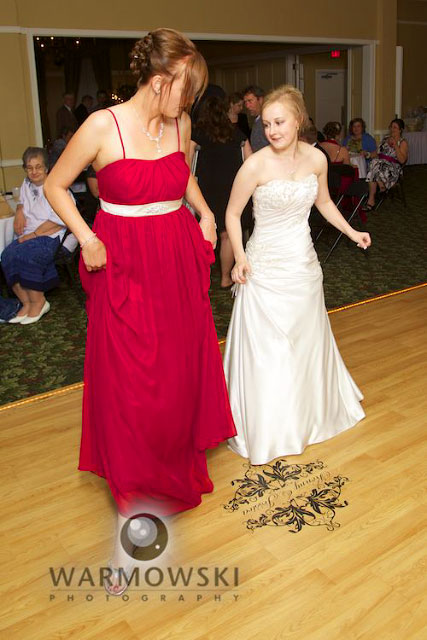 An aside: check out the WallTat video and WallTat web page by one of our brides, Jordan Guide (info also on her design blog). She has her own line of wall tattoos that might be fun for a personalized wedding day. We photographed her wedding to Jim (Shkëlaim) in 2008 with ceremony at the Morton Arboretum in Lisle, reception at Venuti's in Addison. They had a combination Albanian wedding and western ceremonies, a fun day for wedding photography!
Posted by Tiffany/Warmowski Photograpy. Special touches make a wedding special. We look for details we know you put a lot of effort into, so that you can remember them for a long time! Follow us on Facebook. Member with Hamilton's Catering in Springfield Local Favorites, a group of the top wedding vendors in Central Illinois (on Facebook). See the Springfield Local Favorites web page for free tickets to a bridal show and bridal expo, the 4th Annual Bridal Bash in Springfield, Illinois on 25 September 2011.