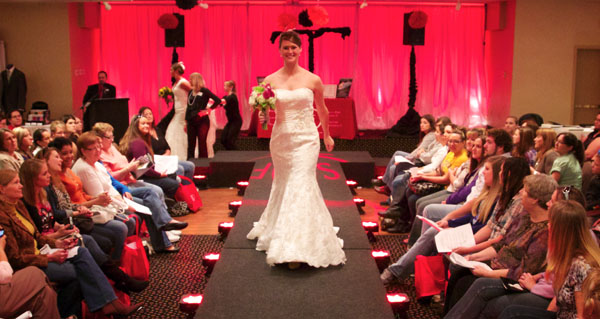 As you plan your wedding, bridal shows are a great way to get ideas for planning. Our hometown bridal show the Jacksonville Main Street Bridal & Prom Expo will be Sunday January 20, 2013 at Hamilton's 110 North East.
We have not made specific plans for which bridal shows we will take part in beyond Jacksonville's. As a small boutique studio it's always a question — we already meet our goal of photographing 25-30 weddings a year just through word of mouth from our happy brides. Adding a bridal expo (which could cost $1,000+ for a booth) is an expense we don't want to pass on to our brides. Call/text Tiffany 217.473.5581 or contact us from our web site to schedule a consultation for your wedding photography. She has lots of suggestions for other vendors including venues, banquet facilities, wedding cakes, dress shops, bridal bouquets and flowers, wedding DJs, limousines & transportation, and more to help you in your wedding planning!
The wedding dress model above Ashley Wall is actually our bride from September, here's what she wrote about us on our Facebook page . . .
I HIGHLY recommend Warmowski Photography!!! They were so wonderful to work with! I heard numerous times throughout our wedding night how awesome they thought our photographers were!!! Not to mention Tiffany not only took wonderful photos but kept me so calm and did some last minute sewing… Even called the dress store and had Steve pick up a button without me knowing!!! I cannot say enough about these two!! They were simply amazing!!!
Here's a list of the 2013 Bridal Shows in Central Illinois (as complete as I've been able to find). Thanks to Girls In White Satin for doing the initial leg work! If you have additional information for me, message me or post on our Facebook page. Everything is listed by date, day of the week, city, description of the show and times (anything in italics is a guess based on the previous year). I'll put in links when available, and will update this post as I get more information (post changes to our Facebook page or contact us from our web site). Included in this list are bridal show Springfield Illinois 2013, bridal show Quincy Illinois 2013 and more . . .
January 4-5 Friday-Saturday Decatur Bridal Expo Annual Bridal Exposition at the Decatur Conference Center 5-9pm Friday (fashion show 7:30pm) 12-4pm Saturday (fashion show 2:30pm) tickets $3 in advance, $5 at the door 217-428-3481
January 6 Sunday Champaign Elegant Bridal Expo at the I Hotel & Conference Center 12-3pm tickets online
January 6 Sunday Springfield WDBR Bridal Extravaganza at Crowne Plaza 10am-3pm (fashion shows noon & 3 pm by Girls in White Satin)
January 6 Peoria Wedding of a Lifetime Bridal Show Peoria Civic Center
January 13 Sunday Springfield Elegant Bridal Expo at Hilton 12-3 pm tickets online
January 13 Sunday Bloomington The Wedding Show at Marriott 11am-3pm (fashion shows noon and 2pm) tickets online, Behind Every Bride
January 13 Sunday – Lasting Memories Bridal Show – Parke Hotel and Conference Center – Bloomington 11am-3pm (fashion shows noon & 1:30pm)
January 20 Sunday Jacksonville Main Street Bridal & Prom Expo at Hamilton's Catering 110 North East, noon-4 pm, $5 in advance (click link above for locations) $8 at door (prom fashion 1:30 pm, bridal fashion 3 pm)
January 24 Thursday Collinsville Gateway Convention Center 5-9 pm
January 25-26 Friday-Saturday Peoria Bridal Bash at Embassy Suites East Peoria with Radio Peoria 5-8 pm Friday, 10-2 Saturday
January 26 Saturday Quincy Y101 at The Ambiance 12-3pm free
January 27 Sunday Springfield Mid-West Family Broadcasting at the Prairie Capital Convention Center Everything Weddings Expo & Style Show 12-4pm (style show 3pm) $5 at the door
February 25 Saturday Quincy KHQA Bridal Show at the Oakley Lindsay Civic Center, 1-4 pm (fashion shows 3pm)
July 29 Sunday Collinsville Gateway Convention Center
TBA/October Jacksonville Girls In White Satin Extravaganza, annual end-of-season sale with $199 wedding dresses, $99 mothers dresses, $59 maids dresses, $49 flower girl dresses, and more.
Hope this helps you. It's so frustrating to find wedding expo information online. Many of the shows are put on by radio and TV stations and they don't do much on the web! The knot.com lists a bunch of Chicago shows under downstate/St.Louis region, and other sites are hit and miss. Just like with wedding photography on your special day, we work to make things easy and stress free.
Posted by Steve. Warmowski Photography, husband-wife photojournalist team available to tell the story of your wedding day. Studio  301 E. Court Street Suite B, Jacksonville, Illinois 62650, hours by appointment, first floor of Hamilton's 110 North East.