Steve is a Kiwanian, and invites everyone to buy tickets for the Kiwanis Club of Jacksonville's Pancake & Sausage Day fundraiser.
Pancake & Sausage Day will be 6am-8pm Monday March 11th at MacMurray College's McClelland Dining Hall. All you can eat! Express Drive Thru Service 3:30-7pm at the west side of Routt gym. Carry-Out available all day. Tickets $6 in advance or $7 at the door (children 5 and under free with paying adult).
Tickets available at County Market, Farmers State Bank & Trust, Franklin Bank, Premier Bank, Jacksonville Savings Bank, Chamber of Commerce, The Source or from any Kiwanis Member.
Thanks for supporting Kiwanis as they raise more than $30,000 each year. All going to fund programs for children and the Jacksonville community.
Steve (with help from Tiffany) will once again be the "Loss Prevention, Recycling and Donation" chairman. A self-created position, towards the end of the day we collect all the left-over food and other supplies for pickup by the Salvation Army and the Spirit of Faith Soup Kitchen, and other organizations.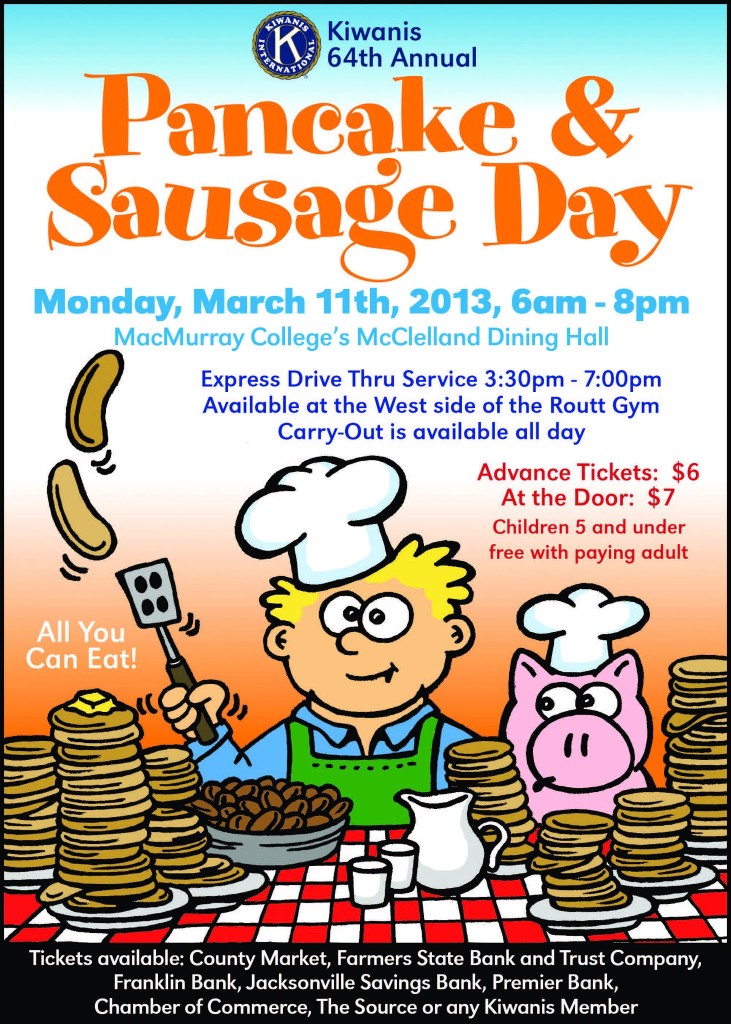 Thanks to Steven Varble for designing the promotional spot for the event. He's always a great fella to work with, photography and design.
Posted by Steve. Springfield Illinois area wedding photography by Warmowski Photography, husband-wife photojournalist team want to tell the story of your wedding day in pictures. Follow us on Facebook. Studio located at 301 E Court St. Suite B, Jacksonville, IL 62650, open by appointment only. Be sure to check out our neighbors Girls in White Satin for formal wear for the occasion.