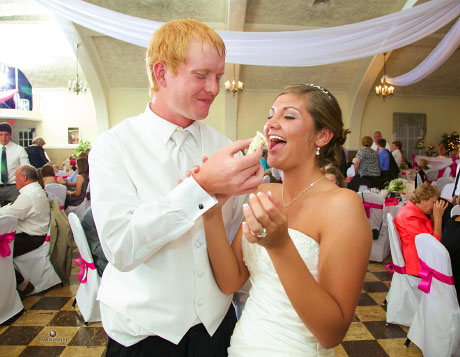 Thanks to The Jacksonville Source for profiling us and letting us post here . . .
By Mindy Farmer
It was August of 1997 and Steve was desperate to find a student photographer to work for the Journal-Courier. A student at MacMurray College, Tiffany had recently discovered an interest in photography. The two met by chance the first day of Tiffany's senior year and Steve invited Tiffany to work at the paper. It didn't take long for Tiffany to realize that she liked journalism and telling stories better than teaching or for the two to realize that their interest in each other was more than just professional.
Originally from the north side of Chicago, Steve Warmowski learned about Jacksonville while acting as
chairman for a contest for newspaper photographers
. Steve would receive photographs from newspapers throughout the state and send them on to be judged each month. Submissions from
Jacksonville Journal-Courier
photographers always impressed Steve. In fact, he told a photographer "when you get ready to leave town, let me know, because I want your job." When the photographer took a new position in Sante Fe, he notified Steve, who was subsequently hired by the
Journal-Courier
.
Tiffany Hermon came to Jacksonville from the south suburbs of Chicago to pursue a
degree in deaf education
. While she enjoyed her studies, spending time in a classroom didn't appeal to her like she'd expected. When the opportunity to work for the paper arose, Tiffany decided to try something new. She soon found that photography suited her because she "really liked the idea of being out, meeting new people every day, and telling people's stories."
Tiffany took one summer photography course before working for the paper, but says that she truly learned the most by doing. Steve shared his experience and knowledge with Tiffany, helping her develop her talents. Tiffany's admiration for her partner is clear as she explains, "Steve was my mentor, my teacher, and my boss, and he taught me a lot. The thing he really taught me was to tell people's stories and we do that by taking pictures."
Steve didn't initially pursue photography himself. As a student at the University of Illinois-Urbana, he originally studied physics, but soon discovered that "it was a lot more fun taking pictures than doing calculus homework." Journalism courses helped to give Steve a good framework in design, writing, editing, and photojournalism. He gained valuable experience writing and photographing for the university's student newspaper,
The Daily Illini
. Steve then went on to gain additional hands-on training as an intern at newspapers in Saginaw and Muskegon, Michigan.
Although he might have started with more formal photography training, Steve found experience to be his best teacher as well. Looking back, Steve says that "The main way I learned how to take pictures was internships and on the job experience." Before coming to Jacksonville, Steve worked as a photojournalist and chief photographer at several newspapers, including the Herald & Review in Decatur, the Journal-Standard in Freeport, and the News-Tribune in La Salle-Peru.
Freelance photography has also been a significant part of Steve's nearly 20 years as a photojournalist. His freelance work has been published in national newspapers and magazines. Papers such as the Chicago Tribune, The New York Times, and the International Herald Tribune have featured Steve's work. His photographs have also been published in magazines such as Newsweek and Business Week, as well as in books. Steve continues to do freelance photography today.
Tiffany completed her degree in Deaf Education at MacMurray in 1998. While she decided to pursue newspaper work and photography rather than teaching, she continues to utilize her sign language skills. Tiffany went on to work full-time for the Journal-Courier after completing her internship and developed a passion for photojournalism.
Tiffany says that she and Steve "pretty much knew right away we were going to get married." She recalls the exact day they began dating – October 31, 1998 – a little over a year after their first meeting. The two kept their romance quiet in the beginning because of their work relationship. Tiffany recalls that their co-workers at the paper were very supportive when they became public with their relationship, however, because this wasn't the first romance to develop in the newsroom.
Steve and Tiffany married two years later on September 15, 2001. According to Steve, the first question people always ask is "who photographed your wedding?" The couple asked one friend to be their official photographer and then invited several of their photojournalist friends from out of town to take pictures as well.
Their wedding occurred four days after 9/11, so many of their friends were called on unexpectedly to cover the tragedy. In the end, about five photographers snapped shots at the wedding, including the best man, and the couple has 1200 pictures to remember their day. While this may seem like a wealth of photos, Steve says that it is "a lot fewer photos than we take when we photograph weddings."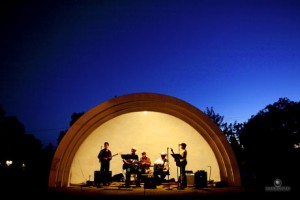 With two professional photojournalists in the family, the Warmowskis often fielded requests from friends and family to photograph their weddings. The two initially resisted this idea and would only photograph weddings on rare occasions. Tiffany says that each time they photographed a ceremony, she would experience a nervous sensation in her stomach because she knew how important these photos were to the bride and groom. They photographed maybe a dozen weddings, with Tiffany always experiencing these nerves, before she had a realization one day that, "hey, this is fun."
While attending weddings as guests, the Warmowskis would often notice issues with the photographers. Many wedding photographers were charging "crazy amounts" of money for posed and artificial pictures. Others were busy partying or relaxing at weddings and missing out on opportunities to capture crucial memories. Rather than telling the story of a wedding, the photographers were simply shooting pictures.
The couple wanted to offer couples something more and started their own business in 2007. They initially photographed the weddings of friends, but their business quickly grew through word of mouth and their website,
www.warmowskiphoto.com
. The Warmowskis photographed 18 weddings in 2007 while Steve continued to work at the
Journal-Courier
. He left the paper in 2008 and they shot 30 weddings. In 2009, the couple photographed 35 weddings, in addition to doing commercial work, events, and senior and family pictures.
When the Warmowskis work with a couple planning their wedding, their goal is to have their experience with photography be as stress-free as possible. They believe that wedding photographs should be unique to each couple and family. To achieve this, they will sit down with a couple and ask, "What's important to you?" and "What is your story?" This way, they can select locations and settings that hold meaning for the couple, places where they can tell their story naturally.
The phrase "it's not about us" is often repeated when the Warmowskis talk about photographing a wedding. Tiffany explains, "The day is not about us. It's about the bride and groom and their family and we take about an hour to do the portraits, but other than that, it's just them going about their day." Steve says that they often advise the couple, "Just enjoy yourself and enjoy your guests and we'll go along with and get those moments as they happen instead of creating them."
Steve says that many brides say that Tiffany's presence is calming and she clearly loves working with brides. In fact, she brings an "emergency kit" to each wedding that includes scissors, safety pins, super glue, a needle and thread, and the all-important Shout wipes. She says that the needle and thread are a necessity because "guests will inevitably step on the bustle of the dress, so I've sewn up several bustles at receptions."
Tiffany also enjoys working with brides to plan the timing of their day so that photographs will not create stress. While working on the timing of the day, Tiffany often finds herself providing advice to help the rest of the day run smoothly, drawing from her own experiences and the many weddings she's witnessed. Helping brides is a bonus part of Tiffany's work and she explains, "I love it. Just to help with those little things and keeping that stress level down, so the brides can enjoy the day." When Tiffany sees a special touch at a wedding or a unique idea, she often takes notes and pictures of it, so she can share it on their photography blog
www.warmowskiphoto.com/blog
.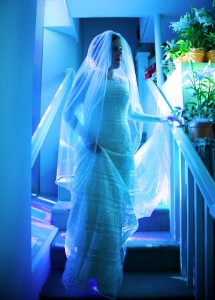 When the Warmowskis are not taking photographs, they are actively involved in the Jacksonville community. Tiffany is a spinning instructor at the
YMCA
and a Weight Watchers Leader. She is a member of the
Rotary Club
and is responsible for coordinating the high school exchange student program. She also volunteers as the director of the Second Closet, which provides professional clothing to support individuals seeking employment.
Warmowski Photography has photographed weddings throughout Illinois. They have also traveled to other states and are often hired to photograph Chicago area ceremonies. They are available to travel throughout the US and beyond. Their favorite and most exotic location so far has been in Buxton, Derbyshire, England. They recently traveled to Italy last year to tour the plant where their photography books are printed and to visit a fellow photographer friend,
Jerry Lee Ingram
. Their goal is to photograph at least one overseas wedding a year and one day they would like to offer a Tuscan Wedding package for couples in partnership with Ingram.
Tiffany still feels that nervous twinge in her stomach at every wedding, but now sees it simply as a sign that she understands the importance of capturing each couple's big day. A wedding only occurs once and this is where the Warmowski's photojournalism experience is especially valuable. Their time taking news photographs taught them use the available lighting and capture moments in time without changing or manipulating the situation. So, while they do take some traditional wedding portraits, they are more interested in simply observing the day through photographs. As Tiffany puts it, "They're going to make their own beautiful pictures just by going about their day and interacting with each other."