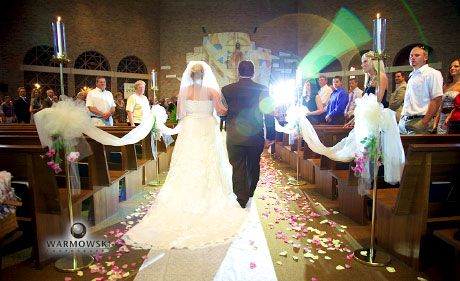 Warmowski Photography has been invited to take part in the White Satin Extravaganza later this month in Jacksonville.
Girls in White Satin will be hosting the event Sunday October 17th from 1-5 pm at Hamilton's 110 North East. Also joining in the inaugural event will be Ashley's Petals & Angels and MarEva Custom Jewelry. The afternoon will also feature discounts on dresses and accessories plus a drawing for a free tiara.
We photographed the wedding of Elisha Langley & Bob Lonergan in June 2009 (image above). Elisha was the first bride to wear a dress from the bridal and formal wear shop. We have a sample book from Elisha & Bob's wedding on display at the store.
We look forward to sharing our images and samples of our coffee table books, and get to better know brides planning weddings in Jacksonville and Central Illinois.
Warmowski Photography, best option for wedding photography in Jacksonville, Springfield, Quincy and beyond — see us on Facebook. Other vendors: Ashley's Petals & Angels on Facebook, MarEva Custom Jewelry on Facebook; Girls in White Satin on Facebook. Share the White Satin Extravaganza event via Facebook.