When I meet with couples before their wedding day to learn the details and hear about what is most important to them, one of the questions I ask is if they plan to see each other before the ceremony.
The answer is about 50/50. Fifty percent of our couples want to stick with tradition. The first time the groom sees his bride on the wedding day is when she is walks down the aisle.
The other 50 percent decide on a special moment before the ceremony where they see each other, ooohhh and aaahhh over each other, and then have their family and bridal party join them for portraits.
Either way works for us. The day, after all, is about the couple and their friends and family, and NOT about the photos OR the photographers.
But,  (you knew there would be a but, right!?) we honestly prefer when couples see each other and get the portraits done before the ceremony. The upsides are: fresh make up and clothing, less rushing, not keeping guests waiting, being able to get to the reception when you want to, not when photos are over, and you don't have to worry about people who were supposed to be in portraits having left for the reception.
Monica and Luther decided to see each other before their ceremony. One reason was that they wanted to stop at their CrossFit gym with the bridal party for photos between the ceremony and reception.
Here are a few photos of their "first look."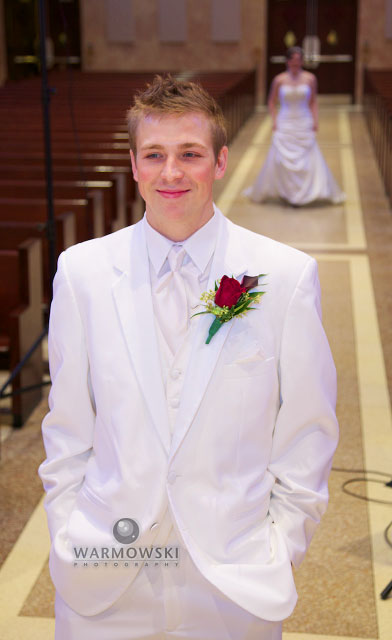 We typically do the "first look" at the alter where the portraits will be taken. There is good light there. The bride and groom usually opt for the groom to stand at the alter with his back turned and the bride walking up the aisle, and he turns around when she gets to him. Although, we have done it other places. Liz and Kris saw each other for the first time in a garden outside the church and Steve and I first saw each other on Rutledge Lawn at MacMurray College across from Annie Merner Chapel in Jacksonville. Rutledge Lawn was where we first met and where he gave me my engagement ring.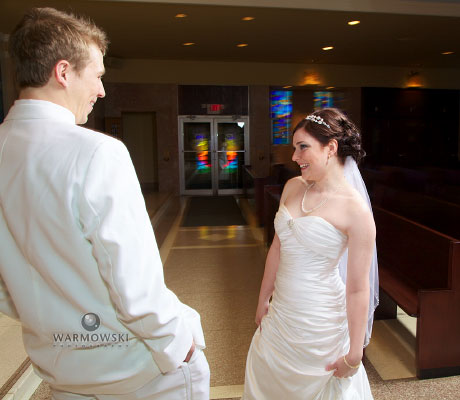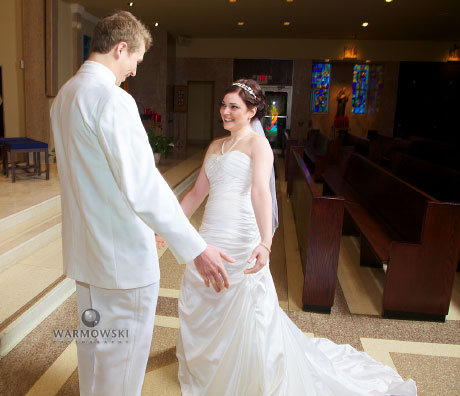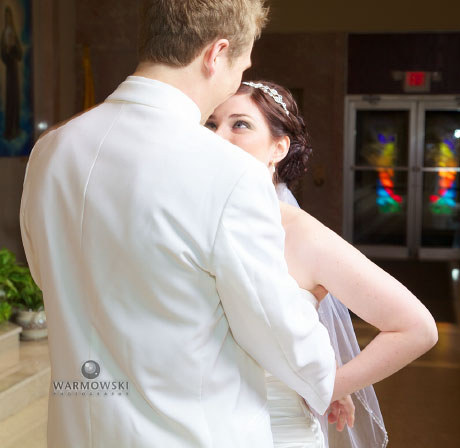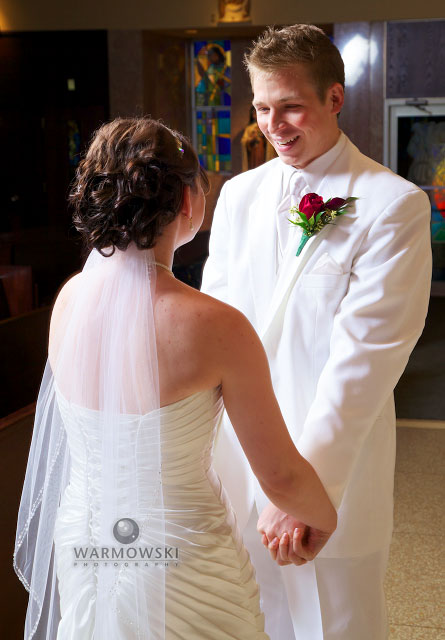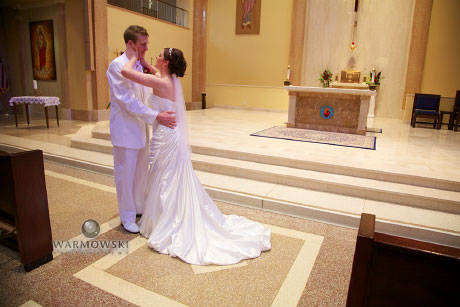 Posted by Tiffany/Warmowski Photography. She and her husband, Steve, photograph weddings, like Monica & Luther's, in Lombard and Homer Glen, as well as in Chicago, St. Louis and all over. And, although Tiffany & Steve saw each other before their ceremony, they both still cried when Tiffany walked down the aisle with her daddy.